Croatia GBC is the largest and premier organization in Croatia that is globally dedicated to the sustainable construction, infrastructure, and green energy.
We are a part of the World Green Building Council (WGBC), the world's largest organization in this domain, and the European Regional Network of Green Building Councils.
We are a business network of the best and leading companies and organizations that are leaders in the transition from traditional to sustainable economy.
Croatia GBC strives to empower its members and other relevant stakeholders with education, networking, promotion, and advocacy, aiming to achieve excellence in all aspects of sustainable urban living. This includes green building practices, lifestyle choices, and overall well-being.
members from various fields of expertise
attendees at different events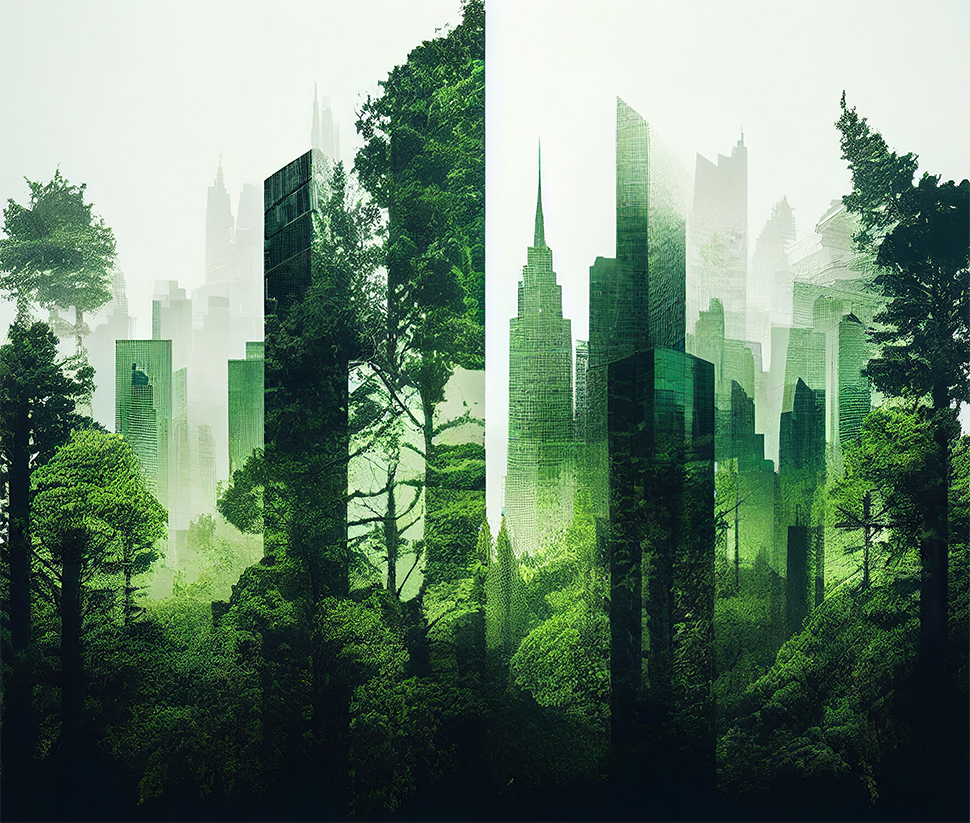 Advocacy
We influence changes in policies and society's awareness

Promotion
We emphasize commitment to a green future

Certification
We develop tools for the development of sustainable construction

Education
We empower change agents for a sustainable future

Networking
We connect the public-academic-real sector

Responsibility
Sustainability is the new reality
EDUCATION
Croatia GBC has a proven track record of delivering educational programs aimed at advancing the adoption of sustainable construction practices among both professionals and the wider public. Over the last decade, we have hosted a multitude of diverse conferences, symposia, and training sessions, drawing more than 10,000 participants in total. Our events serve as a catalyst for raising awareness on pertinent issues, convening influential stakeholders across various disciplines, delivering specialized education to experts, fostering a dynamic platform for the exchange of ideas, knowledge, and experiences, and acting as a national link between policy makers and industry leaders.

NETWORKING
We foster connections among the realms of industry, government, and academia, facilitating diverse stakeholder gatherings within the realms of the green economy and sustainable construction sector. Through these interactions, we broaden our network, acquire fresh insights, and cultivate innovative business prospects aligned with sustainable policies.
PROMOTION
Croatia GBC, in collaboration with the World Green Building Council, offers a domestic and global platform for environmental preservation and mitigating the effects of climate change through collective endeavors.
Through numerous activities in our organization, we promote the work of GBC members and partners who. Within the GBC framework, they collaborate with us to establish pioneering benchmarks, influencing policies and reshaping the conventional economy into a sustainable one—an economy harmoniously coexisting with humanity.
We build – a better world
for future generations!
PROJECTS
Croatia GBC has actively engaged in numerous projects funded by both national and EU resources in recent years, establishing itself as a highly proficient expert collaborator. Our primary contributions within these projects are often associated with communication and the organization of various events, such as workshops, meetings, conferences, and educational initiatives.
These projects encompass a wide range of topics, including sustainable construction, renovation strategies, waste management, energy efficiency, green educational programs, sustainable transportation, circular economy, renewable energy sources, smart cities, and more. Explore further details about our ongoing projects by clicking here.
ADVOCACY
As a part of the diverse spectrum of GBC initiatives, we place significant emphasis on advocacy directed at influential stakeholders. Our primary objective is to foster a deeper understanding of sustainable development principles and the significance of green construction. We strive to cultivate awareness and offer education to a broad spectrum of stakeholders, spanning from public and political figures to those in the real sector.
Through collaborative engagements with a network of esteemed stakeholders, we proactively raise awareness about pivotal issues and processes, shaping national policies in the process.
We collaborate with pertinent authorities in both the Republic of Croatia and the EU, forging partnerships with both private and public sectors to promote the principles of sustainable development.
By achieving these objectives, Croatia GBC experiences continuous growth in terms of organizational structure, member network, and the scope of our activities. Our singular aim is to enhance the quality of life and environmental conservation by instilling sustainable and green values throughout various strata of society and the economy.
The Board of Directors comprises 11 members, including a President, two Vice Presidents, and one Treasurer. These members represent some of the most influential companies and institutions, all sharing the common goal of shaping the organization's strategy and influencing the development of new market and legislative opportunities in support of green and sustainable construction.
The Croatia Green Building Council and its Board of Directors bear the responsibility of ensuring that all their endeavors adhere to the highest professional standards while maintaining a steadfast commitment to the well-being of the built environment, sustainable construction, infrastructure, mobility, and the interests of the entire membership. As per this code, members of the Board of Directors of the Croatia Green Building Council are expected to uphold a positive reputation for the organization in the market and safeguard the integrity of both the organization and its members.
A member of the Board of Directors holds a position of utmost trust. Their actions within the Board can and should have a positive impact on the organization's sustained growth, its favorable standing in the market, and its relationships with stakeholders in the construction sector, members, sponsors, the media, and the general public. Accordingly, members of the Board of Directors commit to avoiding any behavior, including business practices, that could compromise the trust bestowed upon them by the organization's members.
CODE OF CONDUCT FOR MEMBERS OF THE BOARD OF DIRECTORS
Conflict of interest
Individuals who may potentially have a conflict of interest are not eligible to run for the Board of Directors of GBC:
Those engaged in a business relationship that poses potential competition to the Croatia Green Building Council
Those involved in the preparation of projects funded by sources of interest to GBC and/or relevant to GBC's scope of work and interests
Those who organize or participate in the organization of events (conferences, symposia, educational programs, training, etc.) that are thematically similar or related to the scope of work and interests of events organized by GBC.
GENERAL POLICY FOR PERSONAL DATA PROTECTION
We recognize that our success hinges on the satisfaction of all our members and the measures we take to protect their rights concerning the personal data we inevitably collect and process, in accordance with the processing purposes and applicable legal regulations governing our operations.
Therefore, safeguarding the personal data of all individuals in all our daily activities, aimed at fulfilling our business and legal obligations, is one of the fundamental policies and commitments we adhere to in our business operations.
Through a systematic approach to data protection management, we aim to create a secure environment for all individuals, including our employees, members, partner associations and institutions, contractual partners, and suppliers, ensuring privacy and fundamental freedoms and rights regarding personal data.
With the adoption of this policy and the accompanying documents that outline and establish rules and responsibilities, processes, methods, techniques, and tools, we have mandated all our employees and other participants in our business processes to adhere to this policy, principles, and prescribed rules concerning personal data protection. Our objective is to systematically manage and continuously improve privacy and personal data protection.
The application of the principles and guidelines outlined in this policy is mandatory throughout the entirety of Croatia GBC's operations, in the processing activities that involve the use and handling of personal data. In addition to this document, other internal acts regulating personal data protection are applied in accordance with the processing purposes and legal basis, including the Statute and the Membership Register.
DOCUMENTS
Pravilnik o politici zastite osobnih podataka
Izjava o davanju suglasnosti GDPR
Kodeks ponašanja članova GBC-a
OTHER IMPORTANT DOCUMENT
Number of finished projects
Number of project participants
Members of the Expert-Scientific Council
| | |
| --- | --- |
| NAME AND SURNAME | COMPANY |
| Silvio Novak | Knauf Insulation |
| Tanja Herr | Fibran |
| Zoran Veršić | Arhitektonski fakultet Zagreb |
| Bojan Milovanović | Građevinski fakultet Zagreb |
| Mihaela Zamolo | Zamolo M |
| Ivana Lajtman | Viessmann |
| Damir Bekić | Građevinski fakultet Zagreb |
| Kemal Lojo | Danfoss |
| Romana Cvetko | Sika Croatia |
| Edo Turković | ACO Građevinski elementi d.o.o. |
| Marin Kučiš | ALU KÖNIG STAHL d.o.o. |
| Željka Širanović  | DOMUS PLUS d.o.o. |
| Ivana Liposcak | ECOCORTEC |
| Vesna Bukarica | Energtski institut Hrvoje Požar |
| Lovro Bauer | FABRIKA ARHITEKTI Lovro Bauer |
| Mladen Ilijević | FZOEU |
| Suzana Babić Tkalčević | GTC MATRIX |
| | |
| --- | --- |
| NAME AND SURNAME | COMPANY |
| Tea Helman Jukić | Arhitektonski studio Helman i Jukić |
| Ivica Vlahek | JUB |
| Ante Gustin | Sustav javnih bicikala d.o.o. |
| Ivan Lošonc | TIPFELER d.o.o. |
| Antonija Mušović | AGC FLAT GLASS |
| Renata Travljanin | Reynaers Aluminium |
| Hrvoje Kvasnička | Bricmore – Creative property solutions |
| Miroslav Lugarić | WILO Hrvatska d.o.o. |
| Tomislav Kamenarić | Signify d.o.o. |
| Goranka Tropčić Zekan | Klimaproing |
| Amel Emkić | Wienerberger d.o.o. |
| Vlasta Zanki | Geotehnički fakuletet Sveučilišta u Zagrebu |
| Snježana Turalija | GREENiKA |
| Marko Zlonoga | REGEA |
| Damir Dović | Fakultet strojarstva i brodogradnje |
| Filip Steković | ZIP Arhitektonski studio |
Strategic and media partners