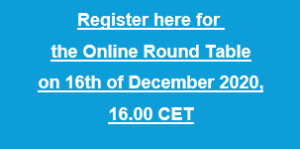 weTHINK would like to invite you to join our End of the Year Round Table together with key European Construction Sector stakeholders and stakeholders from the supply chain.
Together we will discuss and outline possible implementation strategies to improve:
Institutional capacity
Social and financial sustainability
Standardization and
Digitalization
in Public Procurement for the Construction Sector.
We would like to conduct a short preparatory call in the next two weeks to discuss your ideas and inputs on the above topics.
Please suggest a date and time that fits you by replying to sorin.cebotari@wethink.eu

The agenda contains:
Structure of the round table's presentations and discussions.
List of project participants.
We are very much looking forward to discussing with you.
With kind regards,
Sorin Cebotari, PhD 
weTHINK. Project Manager
weTHINK. is THE ONLINE NETWORK FOR STRATEGY
weTHINK. revolutionizes how strategies are developed for a stronger Europe.
weTHINK. brings together the most influential strategy makers, such as ministry executives, chambers of commerce, trade unions, and companies.
weTHINK. provides strategy makers the tools to exchange information, conduct situational analysis or forecasts, and develop strategy options.